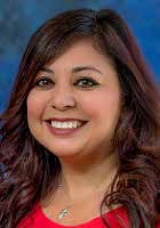 5 Questions: An Interview with Claudia Enriquez, Teacher Assistant, Joan Macy School
Claudia has been with Joan Macy School at David & Margaret Youth and Family Services for 13 years. "I love the staff and students, and honestly think you have to have a huge heart to work here, because you always want to help the girls," she says. "It's so gratifying." She received her associate's degree in Child Development from Citrus College in Azusa. "I always wanted to work with children," she says. "I don't see our students as children, but they are kids. Compared to my two boys, they're so mature, because they haven't really had the chance to have childhoods."
What do you enjoy most about working here?
"My coworkers! They have the biggest hearts. They're always willing to give a helping hand, show affection when the girls need a maternal/paternal role model."
What is your most memorable positive experience?
"Graduation is always very emotional for me, listening to the girls give their speeches and talk about their achievements and goals, and that they appreciate the help we've given them. It can take a while for them to let go of the hard, protective shell they've created and let people in. I'm very emotional and always cry."
If you could learn to do anything, what would it be and why?
"I'd be a basketball play-by-play analyst. I love sports and my team is the Clippers. I love watching their analysts so much – they crack me up. I want to analyze games with them! I know a lot about sports and my husband thinks I'd be good at it."
Who are your role models? "
I don't really have any – I just try to be the best I can. I pray my boys have warm hearts and great minds, and I hope to be their role model one day."
What did you want to be when you grew up?
"I wanted to be a teacher, because I've always loved kids. When I was a teenager, I thought I would have two kids and adopt one. Actually, I adopted both of my boys. I got the oldest when he was 6 months and the youngest when he was 3 months, and finalized the adoptions when each one was 2."